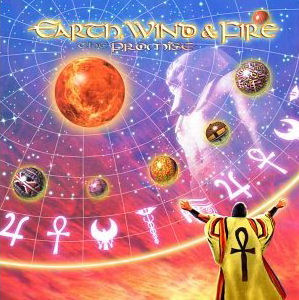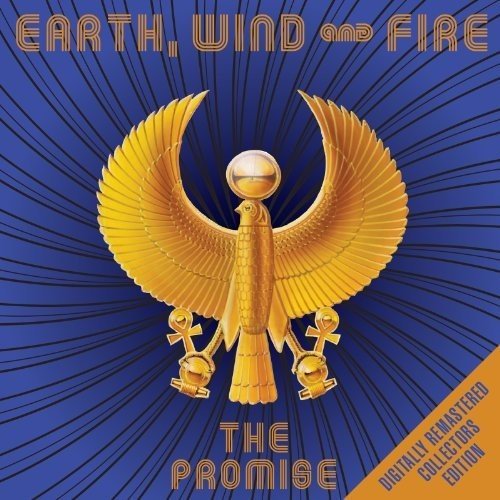 Recently the World lost a legend in Soul and R&B when Maurice White passed away. He will be greatly missed by his fans and family. The Promise was one of the first albums to be rereleased by Kalimba in 2009.
The Promise is an interesting Album that was released in 2003 by Earth, Wind & Fire. Do to issues with the label it hasn't received quite as much respect as it might have deserved. The Album was rereleased in 2009 and then had a remastered rerelease in 2014 the later as a "Collectors edition" which I take to mean has no regard to the original track order as never is now moved to the end of the album. Definitely more at home in the smooth jazz rack then some of their other albums.
"
All in the Way
" is the first track on the album and likewise the only one at the time to have a single released for it. It was the first track Earth, Wind and Fire did in conjunction with the Emotions since 1981. Wayne Vaughn, Wanda Vaughn, Maurice White were the writers for this track. There were a couple of special edition versions released for radio stations both longer and shorter and an instrumental and acapella versions. It has a very easy listen to sound which has been also released as remix single in the uk in 2 different formats by both Atal and Charly Records. Atal offered a number Jay "Sinister" Séalee remixes. The sound is smooth soul sound with wonderful blending of Vocals of Bailey and the emotions.
Betcha'
a song by Greggory Curtis furthers the soul sound of the album. It features some really high falsetto sections by Bailey a few sounding reminiscent of
Fantasy
.
Wiggle
is a short interlude included having a very percussion heavy sound. It was written by Maurice White and Preston glass. A longer version similar to the 12 inch version of Kalimba Tree has surfaced which is almost 2 minutes longer then the album version.
Why
Continues the smooth jazz/soul vibe this album seems to be going for. It has an easy to listen to sound with more blending of male/female vocals.
Wonderland
ups the soul sound with some haunting vocals by both Maurice White and Angie Stone.
Where Do We Go From Here?
continues the track of offering some good soulful background music with more Bailey falsettos. This track was actually an outtake from the
I Am
session but it was reworked for this album.
Freedom
is the next interlude featuring more percussion and not much else but a necessary breakup.
Hold Me
continues the soul sound.
Never
in someways is another interesting track. It appears in this spot on the original release. In the 2014 collectors edition release it was remixed for a dramatically richer sound quality vs the 2003 release. It has some nice instrumental sections highlighting the rich horns. This track has also been remixed and released by Jay "Sinister" Séalee on Atal's label.
Prelude
sometimes listed as The Promise 1 is an interlude as with most of the interludes on the album it features heavy percussion.
All About Love
is overall adds more soul sound and some nice horn sections. It should not be mixed up with the track of the same name from
Thats the Way of the World
Soul
is a Japanese only track and would appear here on the Japanese release. It is interesting as despite the name it is one funkier songs on the album. It is kind of a shame it probably won't ever be included on a US release of this album as it adds some nice classic EFW flavor to this album.
Suppose You Like Me
is back to the soul sound of this album having a few sections that have some instrument arrangement that sounds a bit like something off Stevie Wonder Album.
The Promise
listed on some albums as The Promise 2 is another percussion interlude.
She Waits
is another soul filled smooth jazz track. The Lyrics are emotion heavy and sad.
The Promise (Continued)
or The Promise 3 on some lists finishes the percussion use of this track.
Let Me Love You
has some nice blending of male and female vocals on the lyrics.
So Lucky
is another Japanese only release track, offering more strong blending vocals alternating between a dominating lead vocal with background vocals taking the lead at various parts. Another interesting track that won't ever get wide listenership to being Japanese only.
Dirty
is the final track on the album (unless you count the 2014 rerelease, which ends with a radio of Never). It is actually a rerelease of an outtake from the
I Am
Sessions it was remade for this release this time without it's interlude. It is a really one of the more interesting tracks on the album adding a more upbeat funky sound that was
missing from virtually the rest of the album.
Looking at the album as a whole it works better together then as opposed to alone most of its songs less then memorable by themselves. It works when you are looking for a soul smooth jazz sound for an hour. Outside of
Dirty
,
Never
and
All in the way
most people probably won't be searching for individual tracks from it. I'd rate this album as a decent but not a must have for EFW fans more of a "Completing a collection" album not saying it isn't good but not something to introduce someone to EFW with.
Before I close this post though there is one more track I want to post even though it wasn't included on any versions of this album as it has some connection to it.
Ain't No Remedy
has the same soul sound as many tracks on the album. It was included on the the Japanese release of
Live in Rio
as a bonus track despite it having no real connection to the rest of the album. It possibly was an effort to increase interest in the Japanese market for
The Promise
.